Kabar (shorty) Stag Trading Post Hunter 1923, 80-100 Yrs Union Cut Stag Knife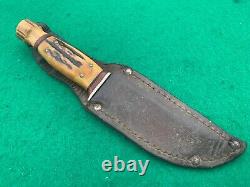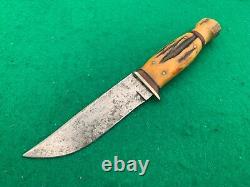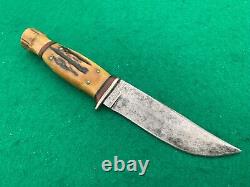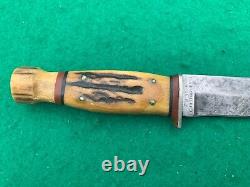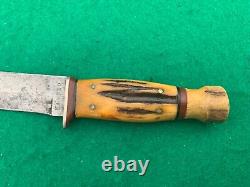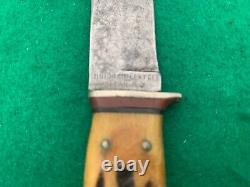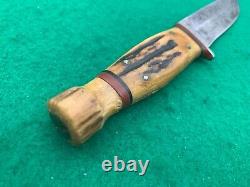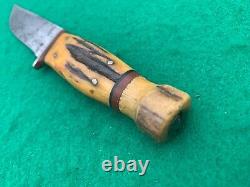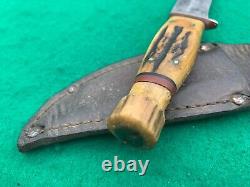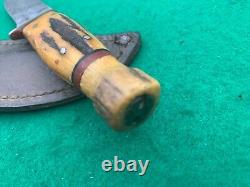 THIS IS A BEAUTIFUL AND VERY RARE LITTLE KABAR SHORTY HUNTING KNIFE, SOME FOLKS CALL IT A LITTLE TRADING POST OR A LITTLE HUNTER, THIS ONE IS ACTUALLY A LITTLE TRADING POST MODEL BEING THE SHORTEST HUNTER KA-BAR EVER MADE 1923 BEFORE 1937. IT MEASURES 6-5/8" OVERALL WITH A 3-3/8" BLADE, THATS WHY IT'S CALLED A SHORTY, IT'S A SMALL HUNTER KNIFE AND THEY ARE GETTING HARDER TO FIND. BOTH THE BLADE TANGS ARE STAMPED. ONE IS STAMPED KABAR REG. OFF AND THE OTHER SIDE IS STAMPED UNION CUTLERY CO.
IT DOES HAVE SOME VERY LIGHT SCRATCHES BUT IS VERY NEAR FULL AT 99.9% FULL (A REAL HUNTING KNIFE) SEE PICTURES. THE HANDLES ARE IN GREAT CONDITION WITH NO CRACKS OR CHIPS, BEAUTIFUL PERFECT STAG WITH BLACK AND RED SPACERS AND 4 STAINLESS STEEL PINS.
THE FRONT GUARD IS NICKEL SILVER AND WITH A STAG REAR POMMEL, ALL TIGHT AND RIGHT FOR 80 TO 100 YEARS. IT COMES WITH THE ORIGINAL LEATHER SHEATH ALSO IN GOOD CONDITION, BLADE FITS IT GOOD, ALL THE STITCHING IS GOOD BUT THE TOP OF THE SHEATH IS RUFFLED AND THE HANDLE STRAP IS MISSING, IT COULD BE REPLACED EASY ENOUGH.
THIS IS A REALLY NICE VINTAGE AND VERY RARE KABAR UNION CUT CO. COLLECTIBLE THAT DOES NOT COME AROUND VERY OFTEN. IF YOU HAVE ANY QUESTIONS JUST ASK.

---