Geo. Schrade Knife Hunting & Fishing B. P. T. Conn. 1910's 4-7/8 Closed Very Rare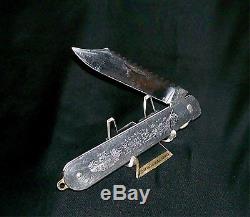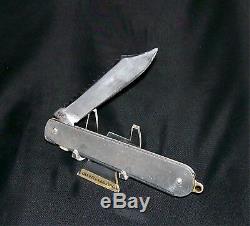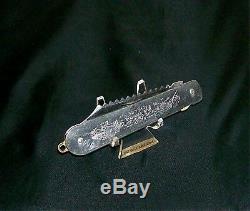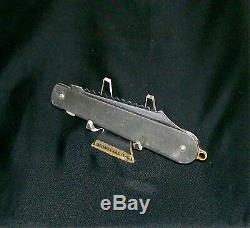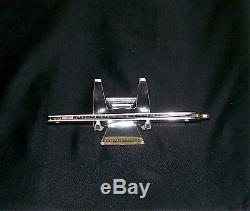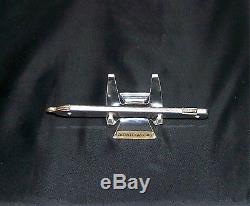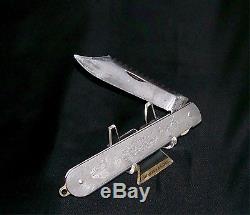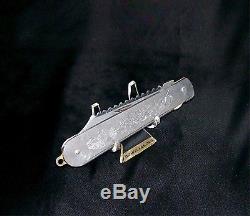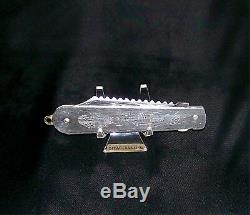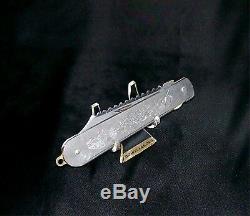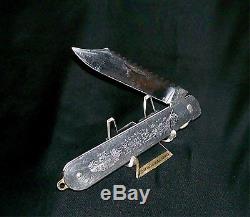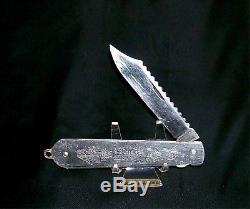 Everyone should know that this knife represents. " A Man's Life work, Interests and ambitions as an Early American inventor and Pioneer in the Art of Knife Making Pocket Knives and his Undying passion for the American Cutlery Industry ". Below you're gonna read a couple of different pieces of history accounting for his trials and tribulations with family and himself. This was an early American inventor and Businessman who never gave up and never knew how to say.
" That's it, I Quit ". He fought Family, businesses and himself right to the bitter end as he challenged every aspect of the knife making industry in America right up to his death in 1940. THIS IS THE DEFINITION OF. " AN EARLY AMERICAN CUTLERY PIONEER ". It's very rare to find a Geo.
Schrade Bridgeport Connecticut Tang Stamped Hunting and Fishing Knife! THERE'S TONS OF HISTORY ON GEO. Vintage very rare and super early 1900's Stainless Geo. Inc, Bridgeport Connecticut tang Stamped Stainless Steel Hunting & Fishing Knife. It has the Rear lanyard Piece and the Blade seems full and in pretty good shape with some snap if helped along and the Lock on top is stubborn but somewhat works but blade partially opens with lock engaged.
It's a pretty dang Rare Schrade Knife and one from the very early years. Schrade Knife with Tang Stamp is Beyond rare and almost unfindable period. If you'd like to read up on Geo. Schrade there's a ton of info on the internet. Below the Next part of the description is a Little Info On Geo. It's Briefly used and it opens and closes with a full blade. The Top Safety Lock works somewhat keeping the blade from accidentally opening when engaged, the blade still opens partially and the lock is hard to engage.
The Knife has scratches with obvious wear from some brief use from past years, it however doesn't appear used a whole lot though. It measures 4-7/8 closed and has the blade that has a Scaler on top and the Plain blade Edge. It has the very Beautiful Geo.
Schrade Engraved Handle featuring the Geo. Schrade with the Words Stainless Steel Below the wording Hunting & Fishing Knife in between the Deer and a Sailfish. This is a great collectible and one heck of a rare find for all Schrade Collectors. " Different Accounts of His Life and Businesses ".
Schrade was a separate company from Schrade Cut. The Schrade brothers had a falling out and George, who was the inventive genius of the family, took the remainders of a company he had worked for in lieu of monies owed when they went bankrupt, and opened his own company in Bridgeport, producing his own designs and improvements on his designs.
His brothers, retaining the Schrade company interests, sued him for patent infringement on knives they were still making on his old patents. George went before the patent infringement judge representing himself, and made monkeys of his brothers, winning the case and leaving them with the bills.
In 1906-07, Schrade patented the Safety Pushbutton Knives which were an improved series of switchblade knives with side-mounted operating button and a sliding safety switch which was later developed in slightly modified form as the Presto series. Thus, the Schrade switchblade would come to dominate the automatic knife market in the United States for the next fifty-five years. There Schrade developed a new type of switchblade knife which he titled the Springer. In 1917, Schrade licensed a flylock switchblade design to the Challenge Cutlery Company, which he then joined and continued to pursue his knife making interests at both Challenge and at Schrade where his brother George now managed one of the companys factories.
In the 1920s, Schrade bought the defunct Walden Cutlery Company in order to obtain their stocks of handle material for his knives. Closed its doors in 1928 after the death of its owner, Charles F.
So Schrade formed a new company called the Geo. By acquiring knife making machinery from the old Challenge Cutlery assets. At the new company, Schrade made Presto switchblades as well as Wire Jack jackknives and other low-end pocket knives.
George Schrade died in 1940 and the Geo. Of Newark, New Jersey but, the company closed operations in 1958 after Congress passed a law banning the sale of switchblades across state lines. In addition, Schrades other company, the Schrade Cutlery Co. This is without a doubt a great Collectible that is worthy of any collection. This knife was a part of our private collection.
Highly sought after by collectors for its collectibility. Don't let this great collectible pass you by.
These Schrade Knives are in high demand. These folks are looking forward to going fishing and sailing and many other neat events geared to their specific needs and you are making this possible. We applaud you for helping The Disabled Community and their loved ones.
DON'T LET THIS PASS YOU UP! MAKE AN OFFER WE WILL NOT BE OFFENDED. TOP DOLLAR FOR YOUR PRIZED KNIVES.
We are Factory Authorized Spyderco Dealers and Very Avid Vintage Knife Collectors. They include Vintage USA knives such as: Schrade Cut Co, Schrade-Walden, Schrade+, Schrade-Camillus-W. Case & Sons-Remington-Puma-Boker-Canal Street Cutlery-Hammer-brand Knives and we carry a full line of new Schrade Taylor Made Products. We also collect NHRA Memorabilia and Warner Bros and DC Comics Fine Art and Vintage Comics.
We have a Large collection that will entertain you for days and we are always adding. THIS SALE IS A 100% DONATION FOR OUR. The Door In The Wall Inc. This is a great responsibility and with your support families dealing with a disabled family member will be able to attend several super outdoors events that are free or very affordable ie. It is our goal to encourage people with disabilities to get out of their homes and to experience the great outdoors.
DITWTEXAS provides an accessible programs and adaptive sports events such as Anglers On Wheels, a fishing tournament held twice a year, (May and September). There is a growing demand for these events. Participation has doubled and we need more funding to continue providing these wheelchair accessible events that include: Anglers On Wheels (twice per year), The Medina Lake 4th of July Barbecue and Fireworks Camp-Out, Sailing on Canyon Lake (three times each summer) and A Country Christmas at La Villita. Thank you for your support. I will see you in the winners circle. Before you file a dispute or leave bad feedback please contact me. We will go out of our way to resolve the issue. We leave everyone good feedback. I would appreciate it if you would do the same for us. MULTIPLE AUCTIONS WON WITHIN A. YOU ARE HEREBY AGREEING TO OUR NEW AMENDED RETURN POLICIES. Please look at our other items. Please note that confirmation or tracking numbers are not available.
Schrade Knife Hunting & Fishing B. 1910's 4-7/8 Closed Very Rare" is in sale since Sunday, September 17, 2017.
This item is in the category "Collectibles\Knives, Swords & Blades\Collectible Folding Knives\Modern Folding Knives\Factory Manufactured". The seller is "ditwtexas" and is located in Pipe Creek, Texas. This item can be shipped worldwide.

---