Custom James Huckeba Forest Hunter Hunting Knife and Sheath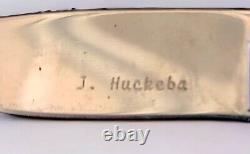 This custom hunting knife and sheath, created by James Huckeba, is the perfect addition to any collector's arsenal. Crafted with a stainless steel straightback blade, the knife boasts a length of 3.5 to 4 inches and a full tang for added durability. The silver blade is complemented by a wooden handle, providing a comfortable grip during use.
Featuring a colored blade and including a sheath, this original piece is the ideal choice for any hunting enthusiast. The knife falls under the categories of collectibles, knives, swords & blades, collectible fixed blade knives, and modern fixed blade, all while being factory manufactured. Add this Huckeba Forest Hunter hunting knife to your collection today.

---