Bradford Knives Guardian 3.5 M390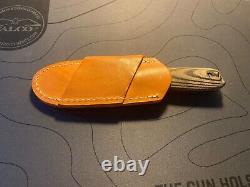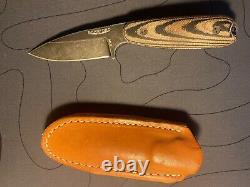 The Bradford Guardian3.5 pocketknife is an ideal everyday carry knife. As a 3.5-inch fixed blade knife with a full tang, the Guardian3.5 is a great tool that can be easily carried and concealed on your belt so you can use it throughout the day. Whether you're working in a warehouse, with wiring or boxes, or you just need to open a bottle at home, the Guardian3 can take care of it.
Built to last for years through everyday use and available in a huge variety of different colors, this knife has a 3-inch cutting edge and is 7.25 inches overall. The larger, more ergonomic handle of the Guardian3.5 is a welcome addition without adding too much to this easy-carrying profile. The knife comes standard with a horizontal leather sheath. "Oiled" Brown sheath for the Stonewash and Nimbus Finish blades, Black leather sheath for the Black DLC blades. Blade Material: Bohler M390 Stainless Steel. Blade Style: Saber Drop Point. Handle Material: 3D Camo Micarta. Weight with Sheath: 5.93 oz. This knife is in near-new. Still sharp from the factory. Includes exactly what's pictured.

---