23 POUNDS TSA Confiscated Pocket Knives Various Brand TREASURE HUNT GRAB BOX BAG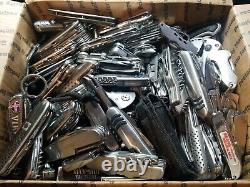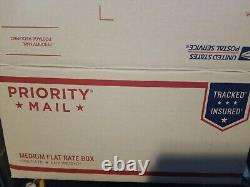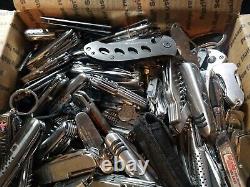 THIS IS FOR A LARGE FLAT RATE BOX FULL OF CONFISCATED POCKET KNIVES. IT WEIGHTS ROUGHLY 23 POUNDS. THERE IS ROUGHLY 70-115 ITEMS IN THIS BOX DEPENDING ON THE SIZE OF THE INCLUDED ITEMS. YOU WILL RECEIVE ROUGHLY 9 POUNDS OF POCKET KNIVES AND 8 POUNDS OF UTILITY KNIVES AND 6 POUNDS OF SMALL SILVER KEYCHAIN KNIVES. This is a RANDOM grab bag treasure hunt lot of randomly picked confiscated knives and box cutters.
These may include pocket knives, multi tools, box cutters and occasionally some small fixed blade knives in a variety of randomly chosen combinations. There will ABSOLUTELY NOT be any high end knives in these lots, so please do not expect that as they have all been removed. What you will receive are great value, very usable knives at a fantastic price. I will do my best to pick you out a nice variety with no major noticeable issues or damage. They will be direct from the bulk confiscated government supplied box, some may need to be cleaned or oiled.
Some may be a little dirty or have a few spots of surface rust. Expect these to include brands like M-Tech, Joker, Coast, Smith and Wesson, Tac-Force, some multi tools, unbranded China made, Frost Cutlery, and various others. Some may have company or tourist location advertising, engraving or names inscribed on them. The pictured knives are a representation of the type of knives you could receive. This is a fun way to get some decent work knives you don't have to worry about beating up and have a fun little "treasure hunt" for your new every day carry knife at a great price.
THIS LOT WOULD BE BEST FOR FLEA MARKET SELLERS. I will try my best to make sure you get a good variety of usable knives with no broken Junk. Please be aware of knife laws in your state before purchasing. ALL BUYERS MUST BE OVER 18 YEARS OF AGE!

---