1968 Gil Hibben Design Tak Fukuta Made Japan Elmer Keith Skinner Hunting Knife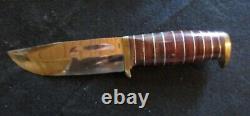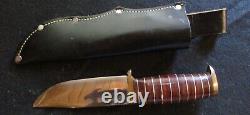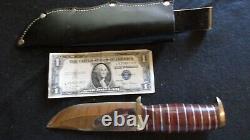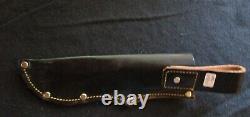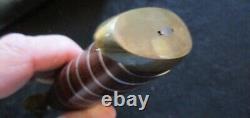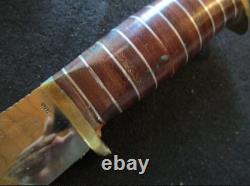 Vintage, circa 1960's / early 70's skinner hunting knife designed by Gil Hibben ca. I I'm not a knife pro, but if you have any questions please ask and I'll do my best to answer correctly. The production of these Elmer Keith knives was done under Takao "Tak" Fukuta, who'd apprenticed with Bob Loveless and was the first Japanese member of the American Knife Maker's Guild. Elmer Keith Skinner knives were made at Fukuta's factory in Seki, Japan. The factory also produced knives for Parker, Valor, Gutmann, Explorer, Frost, and Browning among others. To read more on the history, see below.
This is a weighty knife! Blade measures just under 5 1/4 inches. Very good, untouched (unrestored) condition.
Blade is sharp but I can't slice a piece of paper with it. Looks to need cleaning, which I hear can be done with white vinegar. Brass could be cleaned with Brasso. Stacked leather handle could use some attention, too, but it looks amazingly good compared to other knives I've seen of this vintage. People use products like Saddle Soap and Lexol on the knife handles.
Seki is located at the centre of the Island of Honshu in southern Chubu, Gifu Prefecture. Seki has been a blacksmithing town for 800 years. It used to be well-known for its katanas, which were famous throughout Japan. It is said that this art was introduced by a famous blacksmith around 1200 who moved to Seki for the quality of the earth and coal, and abundant pure water.
Today, the city has become the capital of modern cutlery and stainless steel blades. This is the city where Japan's largest knife salon is held each year.
The knives are forged with new steels, and there are more full tang knives with more Western shapes. TAKBLADE was founded by Kazunori FUKUTA in 1941 at Seki, in Gifu Prefecture. His second successor, Takao FUKUTA, began making pocket and hunting knives, and then, in around 1970, he went to the United States to sell his TAK FUKUTA products.
Takao FUKUTA's passion for knives continued to develop, and in 1978 he was recognizd by Robert Wald "Bob" Loveless, known as the "god of knives" in the United States, with whom he began an apprenticeship. The same year, he was the first Japanese person to be accepted into the American Knife Guild for his high-quality work the Loveless folding knife.
Loveless appreciated Takao FUKUTA, he shared with him all of his skills in making hand-crafted knives. When he got back to Japan, Takao FUKUTA continued creating very useful handmade knives that were simultaneously handy, strong and elegant. Today, it is the third successor, Kazuhiro FUKUTA, who makes them using the techniques inherited from his father. Check back with me for other listings for knives from this estate. I've left them all as-is, as found.
The knives are by Western, Elmer Keith, Valor, Imperial, Precise, etc.

---