Original 19th Century Nepalese Gurkha Long Leaf Kukri Fighting Knife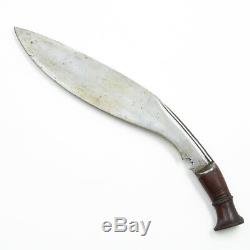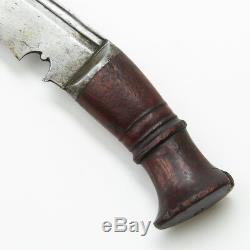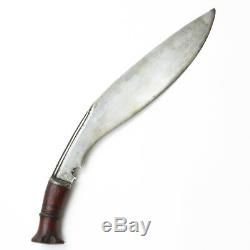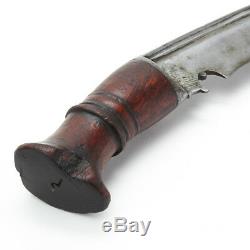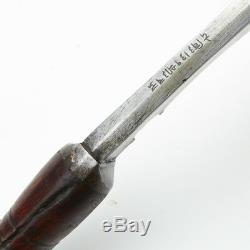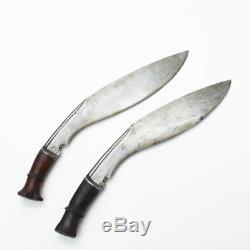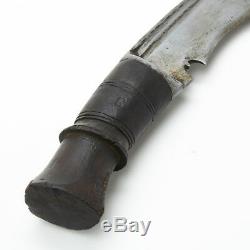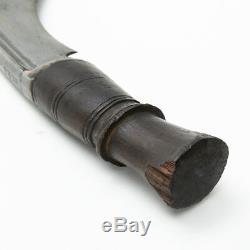 The world leader in military collectibles, military antiques and the militaria industry. Original 19th Century Nepalese Gurkha Long Leaf Kukri Fighting Knife. Arrive dirty packed in old original grease they are totally un-cleaned as found in Nepal after 100+ years in storage. Vary in size, most approximately 18" long, 2-1/2" wide, 3/8 thick. Wood Grips have minor cracks and/or small missing bits of wood.
Are the real deal and are 100% genuine antique military issue knives, these are not tourist made reproductions. The Gurkha Kukri is possibly the most recognizable and famous fighting knife ever developed. Indigenous to the mountain Kingdom of Nepal, home of the Gurkhas who were "absorbed" into the British sphere of influence with the Treaty of Seguli in 1816.
These ferocious fighters were infamous for their valor and for using the kukri an amazing "Tool of Death". It is a forward leaning leaf shaped blade, which provided the user with leveraged striking power. The kukri was became an everyday tool as much as it was a deadly weapon. Introduced long before the British arrived in the early 19th century, the Kukri became standard equipment for Gurkha Regiments serving in the British Army.
Ironically the earliest Kukris are the largest, which seems improbable as improvements in nutrition and health care has resulted in mankind in general being much larger today than in 1800, yet with Kukris it is the exact reverse. This Victorian Era Long Leaf Kukri is The largest and oldest, each with Nepalese Negari script indicating various 19th century manufacture dates and were in use up until the late 1890s.
History of the Kukri- The kukri (alternatively spelled khukri or khukuri) is a Nepalese knife with an inwardly curved edge, used as both a tool and as a weapon. The kukri was, and in many cases still is, the basic and traditional utility knife of the Nepalese people.
It is a symbolic weapon of the Nepalese Army, and of all Gurkha regiments throughout the world. It is a part of the regimental weaponry and heraldry of the Royal Gurkha Rifles, and is used in many traditional rituals among different ethnic groups of Nepal, including one where the groom wears one during the wedding ceremony. It is known to many people as simply the "Gurkha blade" or "Gurkha knife". The pronunciation "kukri" is of Western origin, as the Nepalese people to whom this weapon belongs pronounce it with three syllables - khukuri.
The oldest known kukris are in the National Museum in Kathmandu, Nepal that belonged to Drabya Shah, circa 1559. The kukri came to be known to the Western world when the East India Company came into conflict with the growing Gurkha Empire, culminating in the Gurkha War of 18141816.
It gained literary attention in the 1897 novel Dracula by Irish author Bram Stoker. Despite the popular image of Dracula having a stake driven through his heart at the conclusion of a climactic battle between Dracula's bodyguards and the heroes, Mina's narrative describes his throat being sliced through by Jonathan Harker's kukri and his heart pierced by Quincey Morris' Bowie knife.
All Gurkha troops are issued with a kukri; in modern times members of the Brigade of Gurkhas receive training in its use. The kukri gained fame in the Gurkha War for its effectiveness. Its continued use through both World War I and World War II enhanced its reputation among both Allied troops and enemy forces. Its acclaim was demonstrated in North Africa by one unit's situation report.
It reads: Enemy losses: ten killed, ours nil. The notion of the Gurkha with his kukri carried on through to the Falklands War. On September 2, 2010, Bishnu Shrestha, a retired Indian Army Gorkha soldier, alone and armed only with a kukri, defeated 40 bandits who attacked a passenger train he was on in India. He killed three of the bandits, wounded eight more and forced the rest of the band to flee. WHAT YOU SEE IS NOT WHAT YOU GET! We display multiple images and write detailed descriptions of the products we sell in order to provide the customer with as much information as possible so you know what to expect when you open the box. However, most of our original antique items are not one-of-a-kind.
Meaning the images you are viewing will not be the exact item that you will receive when you place your order. The images will, however, represent a typical example. In fact, the photos of products displayed on the website are never the very best examples of what we have. We make a concerted effort to photograph average examples of each product.
This way, you can expect to receive an item that is at lest as good as the one photographed, unless specified otherwise. The only time you will get the exact item photographed is when an item is listed as? IMA Inc was founded by Christian Cranmer in 1981.
In 2004, his son Alexander joined the business and together (with plenty of help from their magnificent staff) have grown IMA to become the world leader of the Military Collectibles, Military Antiques and the Militaria industry. We offer thousands of military antique items, including very rare original pieces spanning the past five centuries, as well as hard to find top quality new made reproductions. IMA supplied some of the world's foremost Military Museums, Film Productions (Saving Private Ryan), Collectors, and Re-enactors.
However, most IMA customers are just everyday people that happen to share our passion for history. We are an American company with European roots.
Our corporate offices are located in Gillette, New Jersey, less than one hour from New York City. Thank you very much for visiting. While the majority of orders will arrive on the estimated dates some orders may be delayed for various reasons. Please allow us the opportunity to resolve problems; we understand the concern and frustration you may have and will do our very best to resolve any and all issues.
We want to make it easy. You DO NOT need a Return Authorization Number (RA#).
Unaltered Condition means that no restoration, painting, major cleaning, or change of any kind has occurred. The return address label provided by IMA is not pre-paid. It is only an adhesive label with our correct address. We appreciate your patience and understanding. We will resolve your issue before either option is required- that is a promise.
We will notify UPS about a pending claim. UPS claims can take up to four weeks, but typically are resolved sooner. We also maintain a secure database of customer addresses.
If a mistake was made and IMA is responsible, we will correct it out of our cost. This listing is currently undergoing maintenance, we apologise for any inconvenience caused. The item "Original 19th Century Nepalese Gurkha Long Leaf Kukri Fighting Knife" is in sale since Friday, November 4, 2016. This item is in the category "Collectibles\Militaria\1784-1860\Original Period Items".
The seller is "international-military-antiques" and is located in Gillette, New Jersey. This item can be shipped to United States.

---